Baldwin Boxall – OmniCare Disabled Refuge System
Disabled refuge (Type B) system which provides two-way communication for disabled refuge areas. We have two types of refuge outstation.

All disabled refuge units are designed to provide two-way hands free communication between the occupier of a disabled refuge area and the person (or persons) operating the 'control panel'. They are designed for use in an emergency when the evacuation of a building is required – such as during a fire. More information about disabled refuge systems can be found here.
Disabled refuge outstations for the OmniCare range come in a choice of styles – standard or Advance. Outstations (also known as 'remotes') on the OmniCare system are wired in a loop configuration.
PICTURED RIGHT: Our green advance outstation. For images of all the options available please click on the button below.
Also available in the range is the combined unit which features a disabled refuge remote and fire telephone in one housing. Read more…
To avoid hoax calls, the disabled refuge remotes are 'in standby' until the master panel is triggered by the fire panel during an emergency. However, the remotes can be set to be permanently active if this is preferred.
Please note that for systems used for 'fire fighting' that fire rated enhanced four-core cable should be used (exceptions exist, please refer to BS5839-9:2021 for full details.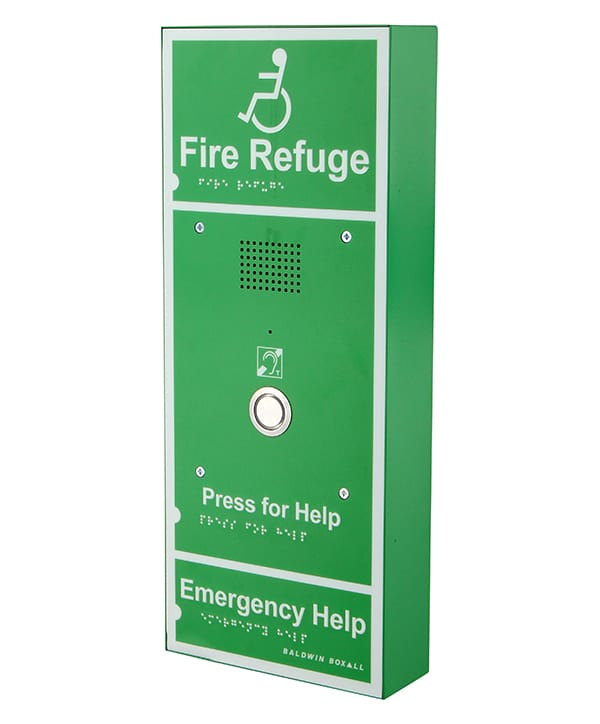 BIM (Building Information Modelling)
 objects are available for all Omnicare system products:
Download BIM
All Omnicare remote units are self-powered from the ring circuit.
Standard style remote:
Surface mountable (optional flush mount bezel available)
Speech steered, digital audio
Plasterboard backbox available
IP65 rated enclosure available (BVCRIPBG)
Reset at either master panel or remote
Advance disabled refuge remote:
Induction loop, Braille, tactile and luminescent text
Surface mounting unit, or flush mount with bezel (available separately)
Speech steered, digital audio
Reset at either master panel or remote
What else is available?
Further information:
Product codes:
BVOCECPG
BVOCECPS
BVOCA2G
BVOCA2S
For full product specification please refer to the sales leaflet:
Please note: Stainless steel products are not intended for installation in humid areas.
Like to discuss a project?
Call us on +44 (0) 1892 664422