UPDATE – Charity Abseil from the top of The Brighton i360!
News Update – He Did It, in the Dark!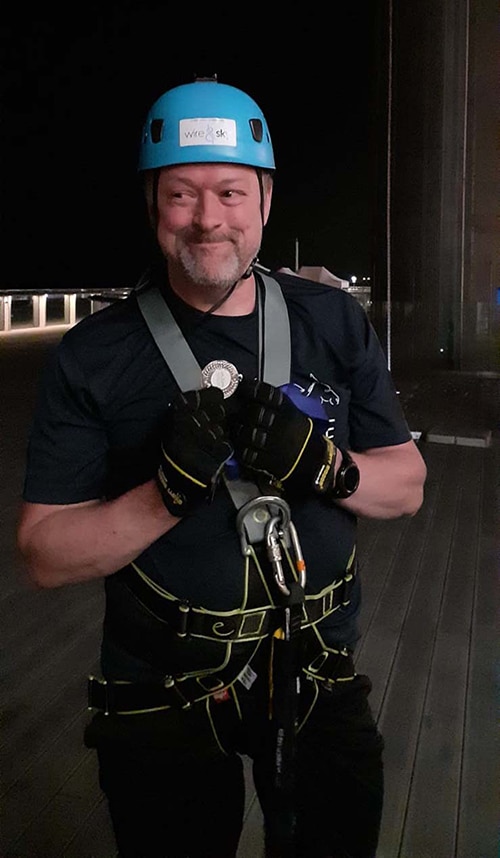 The date had been postponed, but the abseil eventually took place on 15th September. Here's what Keith said: "Yesterday at about 10pm I did finally manage to complete the iDrop for Raystede. To answer your questions… yes it was very scary and no I managed to keep everything inside me. It was a rewarding experience and I would like to thank everyone who has sponsored me as it certainly made me want to complete it. The pictures aren't the best I'm afraid but at least they show a) my nice white trainers and b) my slightly relieved face! Just in case anyone was waiting until I'd done it, the justgiving page is still open for a little while on my 'Just Giving page:
Sponsor Keith here
"
Our Quality Assurance Manager – Keith Manvell – has decided to put himself way out of his own comfort zone! What a challenge this is!
Here's what Keith said; "On Thursday 1st July I will be participating in the iDrop Challenge to help raise money for the local animal charity, Raystede Centre for Animal Welfare.
The iDrop Challenge is the highest controlled descent in the UK, abseiling down an incredible 162m from the viewing platform of Brighton's i360.
I would like you to sponsor me to help raise money for Raystede whom rely on donations to enable them to rescue, provide sanctuary, and rehome a huge diverse range of animals.
As an animal lover I have been a regular visitor and "Friend of Raystede" for many years, and would like to raise as much money as possible for them in these hard times.
For further information regarding the iDrop challenge itself please look here: 2021 iDrop Abseil
To sponsor me, or simply make a donation, please go to my 'Just Giving page: Sponsor Keith here" Keith