Baldwin Boxall – Care2 EVC Network Expansion Panel
The Network Expansion Panel enables large networked Care2 EVC systems
The Network Expansion Panel (NEP) adds to the flexibility of the Care2 EVC system. Whether you require one outstation or 256 outstations, Care2 can meet your needs.
Each 4-way panel can be expanded to 8, 12 or 16-way by means of an optional expansion kit (not factory fitted).
Features:
Up to 15 NEPs can be fitted on one system (14 if installing two 'control' panels)
Each NEP is supplied with a 4-way line card (add up to 3 expansion kits to enable 8, 12 or 16-way)
Systems with up to 256 outstations possible (larger systems can be installed, please contact our sales department)
For initial system set up and local testing prior to connection to the network, a 'roaming telephone' can be temporarily connected to an internal socket
At each NEP, the status of local outstations can be viewed by using the rotary encoder and LCD screen
Black or stainless steel
Surface mount (optional flush mount bezel available)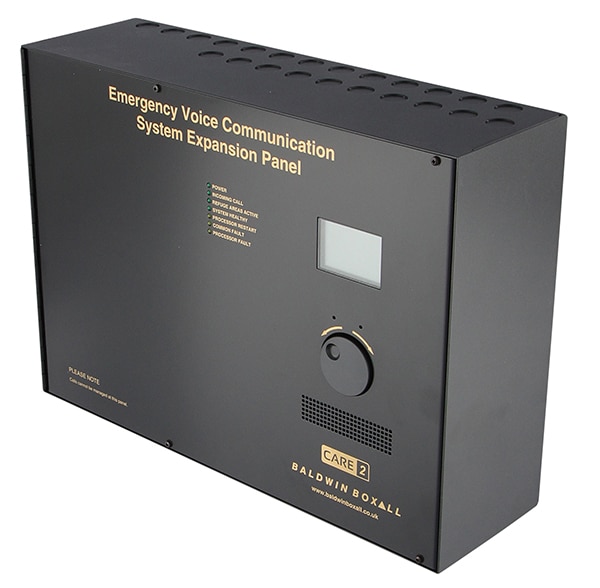 Products in the Care2 range include:
BIM (Building Information Modelling):
BIM drawings are available for the NEP panel and all Care2 system products. To download your copy, please click on the link at the bottom of this page.
You may also be interested in:
NEP product codes:
C2CBNEP (black)
C2CSNEP (stainless steel)
C2CEK4 (expansion module)
Further information:
Please note: Stainless steel products are not intended for installation in humid areas.
Like to discuss a project?
Call us on +44 (0) 1892 664422