Audac Public Address System Products
A public address system needs to be heard clearly and should be of a good design with good quality products.
Simplistically, a public address system (also referred to as a 'PA' system) is the broadcast of speech (music, or other sound) from a microphone (device, or other input), through to loudspeaker(s) (or output devices).
This process enables a single person (or sound) to be heard by very many people – over long distances – clearly and without shouting.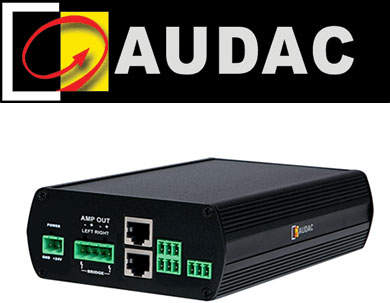 The sound (voice, music or other) is routed through amplification unit(s) to achieve the appropriate volume and the output(s) (loudspeakers or other devices).
Although in principle a public address system is a basic concept, there are many aspects to think about when designing the right system for your needs. Whether it is a small (single zone/loudspeaker) or large (multiple zones/loudspeakers) system – it is best to get it right first time.
It is important to consider the types of input, method of amplification, amplification power, number of zones, routing of broadcasts, type of building/area, and more.
You may like to know:
A public address system is often incorrectly referred to as a 'Tannoy', named after the company which supplied many systems in the past.
Public Address is different to Voice Alarm:
A Baldwin Boxall voice alarm system is a 'monitored' 'life-safety' system which also has the ability to be used as a flexible public address system every day.
The Audac range of public address equipment – available from Baldwin Boxall
The Audac product range includes a comprehensive selection of audio matrix (routing) products and amplifiers. The entire range of Audac products is available from Baldwin Boxall, including:
R2 multi-zone audio matrix system
M2 multi-media digital audio mixer
MTX series multi zone audio routeing matrix
CPA series of 100V power amplifiers
CAP series of two channel 100V amplifiers
APM range of digital microphones
Wall panels for local area control and broadcast
Using the skills we have with system design, and with access to products such as the Audac range, you can be sure that we will provide you with a quality system that fulfils your needs.
We also have a group of knowledgeable distributors who will be happy to discuss your needs (please mention Baldwin Boxall).